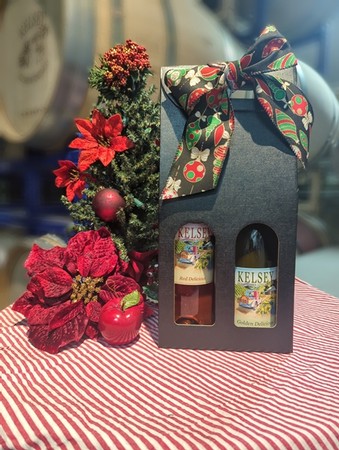 Holiday Bundle - Apple
2 Apple Wines
Surprise your loved ones with our most popular selections this holiday season! These off-dry apple wines combine the crisp, ripe taste of fermented apple juice with buttery Chardonnay or fruity Rosé, resulting in an amalgamation that is as refreshing as it is innovative.
Bundle Contents:
(1) "Golden Delicious" Apple Chardonnay (13.5% abv)
(1) "Red Delicious" Apple Rosé (14.2% abv)
Gift Box & Ribbon
Please ensure only Holiday Bundles are in your cart. Flat-Rate/Free Shipping will not apply to Holiday Bundles if Bottles or 4-Pack Hard Ciders are present. This is a limitation of our software, and we apologize for the inconvenience. Additional wine or hard cider may be purchased in a separate transaction.